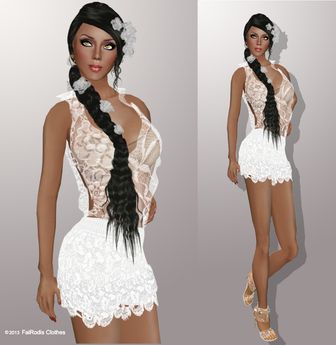 FaiRodis Good Mood #11 mesh white lace outfit
This is awsome summer outfit that absorbed most fresh fashion trends.
You can wear it as beautifull wedding outfit.
Also You can wear it with or without bra 😉
Blouse sizes : XL,L,M,S
Shorts sizes: S,XS,N,L,XL
Attention! You do not need to wear alpha leyer, to wear blouse – you just need to wear outfit with one more size larger then your avatar body size.
You can find FaiRodis Good Mood #11 mesh white lace outfit at SL marketplace: https://marketplace.secondlife.com/p/FaiRodis-Good-Mood-11-mesh-white-lace-outfit/5225040